Alejandro celebrated his 13th birthday recently with a new mattress, but what he received was a potential lifetime of safe and sound sleep.
He is one of about 50 children living near a lead smelter in Malambo, Colombia, who we found were sleeping on highly contaminated mattresses and exposed to nightly toxic doses of lead.
A little girl in the family bedroom.
Among his neighbors are siblings Hilary, age 2, and Juan, age 4, who were sharing a mattress that contained over 1300 ppm (parts per million) of lead. Three year-old Liz's mattress measured 928 ppm of lead. Four children didn't even have mattresses — they slept on pieces of cardboard, which were also contaminated with lead. (As a comparison, the EPA level for concern is 400 ppm for residential soil.)
Some children slept on cardboard.
The Pure Earth team determined that sponges in the mattresses had absorbed lead particles from fumes released by the smelter over the years. Moreover, many of the children did not wash their feet before going to bed, after a day running around barefoot in their polluted neighborhood. Adults working in the nearby smelter also brought toxic lead back to their homes in their clothing.
Pure Earth's Vanessa Vega carrying a handheld XRF (X-ray fluorescence) analyzer on her shoulder. She uses the XRF to test mattresses for the presence of toxic lead.
To quickly protect the most at-risk residents, Pure Earth worked with USAID to replace the mattresses of children with the highest blood lead levels. The new mattresses are covered in plastic to keep lead out.
Some of the new mattresses delivered.
Pure Earth also conducted detailed assessments of the homes of all children under 13 years old who were tested for lead, and provided residents with instructions on how to keep their houses clean of lead dust. Residents were also instructed to wrap old mattresses that were not replaced in plastic to protect themselves and their children from further poisoning.
A family welcoming their new mattress, alongside Pure Earth's Vanessa Vega (right) with John Noreña, the Environment Secretary of Malambo's mayoralty.
A family's old lead-contaminated mattress being taken away.
The residents of Malambo have been living with lead for about a decade. Now, we're helping to turn things around.
These two boys seem content to throw out their old, lead-contaminated mattress…
Pure Earth recently completed remediation of an area in Malambo that was littered with toxic industrial slag and covered with lead soil levels exceeding 10,000 ppm (the EPA maximum standard level is 400 ppm for residential, and 1,200 for non-play areas).
mOne of the mattresses that was tested and shown to contain a high amount of lead.
We're also been teaching children in the community about the dangers of lead through comic books, puppet shows, songs and games . It is all part of our plan to help the children of Malambo break free from lead poisoning.
Pure Earth's Vanessa Vega with John Noreña, the Environment Secretary of Malambo's mayoralty, with a happy little girl and her new mattress.
A lot has been accomplished in Malambo but more needs to be done to clean up this community. While the work continues, at least this community can get a good night's rest without fear of being poisoned.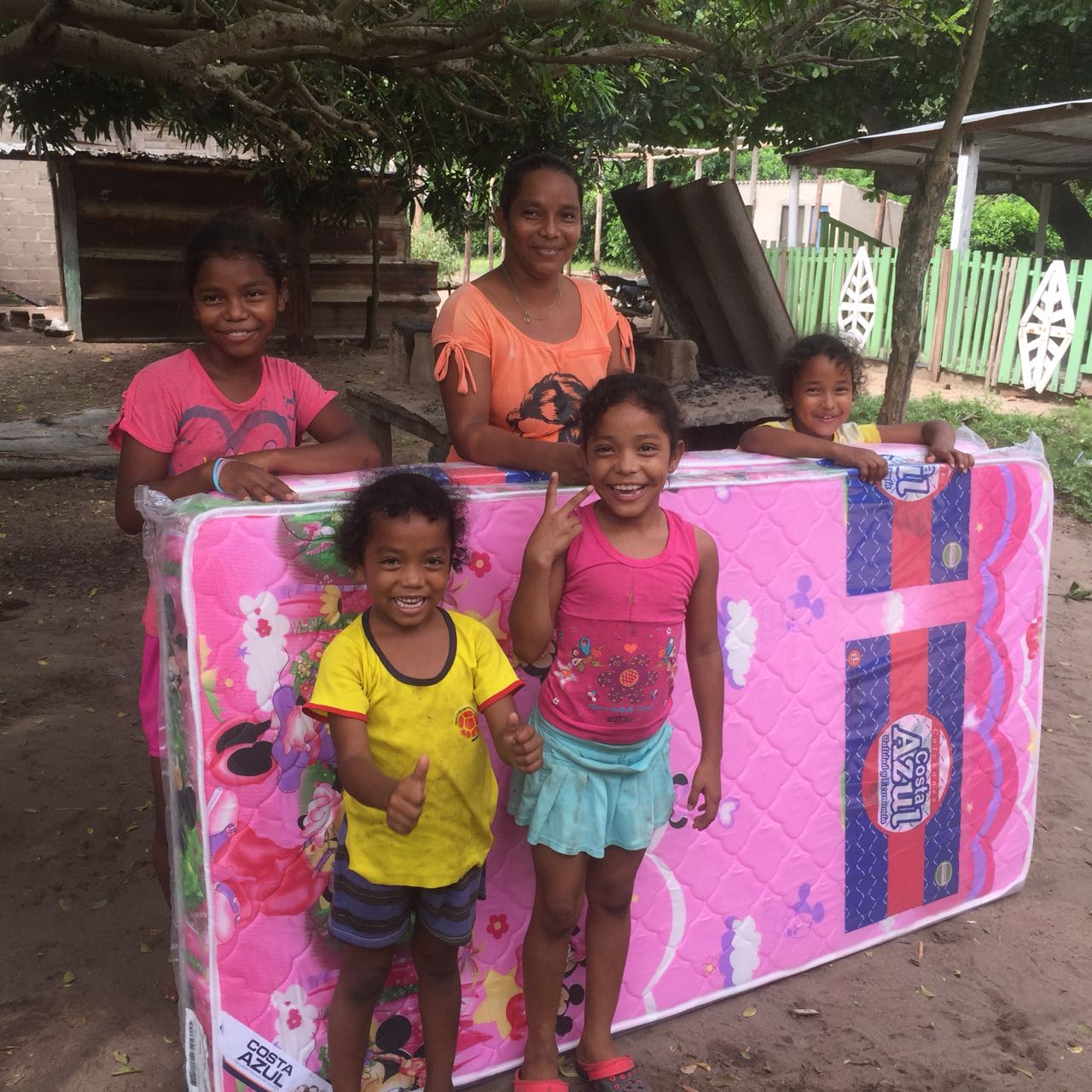 Pure Earth's work in Malambo is supported by USAID, UNIDO, and the European Commission. The project is being conducted with the help of the local government in Malambo, including the Planning office, Secretary of Environment, and Secretary of Health, and also the local environmental authority.
Related:
Colombia Lead Poisoning: A Clean, Lead-Free Mattress For His Birthday
Colombia Lead Poisoning: Helping Children Break Free in Malambo