For years, parents in Malambo, Colombia, didn't know that their children were sleeping on poison. Surrounded by five lead smelters, Malambo was heavily contaminated with lead. Over the years, lead had polluted the ground, settled on almost every surface in the community, and even soaked into mattresses.
In November 2018, Pure Earth worked with USAID to replace the mattresses of children with the highest blood lead levels. Among them were a young boy named Alejandro, who celebrated his 13th birthday with a new mattress, and siblings Hilary, age 2, and Juan, age 4–a total of 50 children.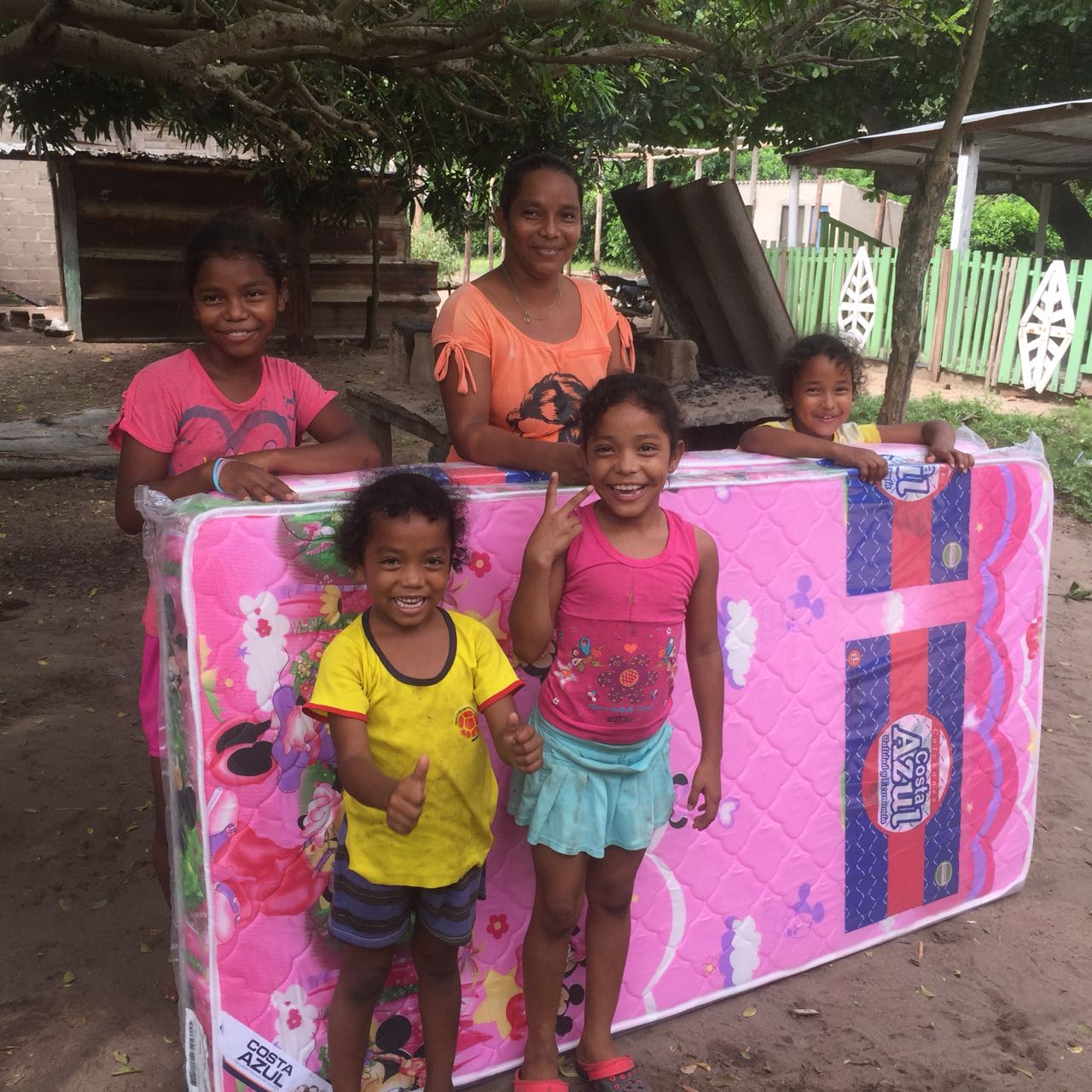 These children in Malambo, Colombia, were among the first to receive clean, lead-free mattresses in  2018.
Last month (August 2019), Pure Earth returned to Malambo to follow up on the children, and do more investigating. Pure Earth experts tested the homes of an additional 32 families and found more contaminated mattresses. Adults were sleeping on mattresses that contained 87 to 519 ppm of lead, while children's mattresses contained 43 to 2027 ppm of lead!
Pure Earth delivering a second load of mattresses to children in Malambo, Colombia in 2019
Residents were also taught how to conduct daily cleaning to reduce their family's exposure to lead.
After identifying Malambo as a priority site, Pure Earth began cleanup work in 2018 with the support of the local government of Malambo, USAID, UNIDO and the European Commission.
Pure Earth team measuring soil lead levels in Malambo in 2018.
The site after remediation, looking healthy and green with grass growing. Now residents are no longer exposed to lead poisoning at this once contaminated site.
The cleanup project included the remediation of a highly contaminated area littered with toxic industrial slag that had lead soil levels exceeding 10,000 ppm (the EPA maximum standard level is 400 ppm for residential, and 1,200 for non-play areas).
Pure Earth began replacing mattresses only after finishing the cleanup. This was to ensure that the new mattresses would not be recontaminated.
We expect that blood lead levels of affected children in Malambo will fall now that they have clean mattresses, and the most toxic areas of their community have been cleaned up.
With the help of a local youth group, Pure Earth put on puppet shows, songs, and games to teach children from the La Bonga School in Malambo about the dangers of lead and how to keep themselves safe.
Pure Earth's work in Malambo is supported by USAID, UNIDO, and the European Commission. The project is being conducted with the help of the local government in Malambo, including the Planning office, Secretary of Environment, and Secretary of Health, and also the local environmental authority.
Related:
Colombia Lead Poisoning: A Clean, Lead-Free Mattress For His Birthday